Specialising in Custom Door Design
and Sizing
Sliding Doors (Aluminium or Timber)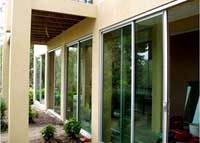 Timber or aluminium sliding doors are a sturdy, practical and easy solution to instantly expand your home's living area in summer and maximize light penetration in winter.  We supply adjustable, smooth sliding doors in standard or custom sizes to meet your needs.
Bi-Fold Doors or Multi-Fold Doors (Aluminium or Timber)

Bi-fold doors are the ultimate for allowing natural light into your home and when opened up create a free flowing, unobstructed space to the outdoors. Bi-fold doors can be custom made in both aluminium or timber frames to meet your renovation or door replacement specifications.
French Doors (Aluminium or Timber)

French Doors create a stylish addition to a home with two full height doors that are vertically hinged and when opened, extend entertaining areas.
Full Glass Doors (Aluminium or Timber)